Buttermilk and Luke's Falls are located in the Lehigh Gorge State Park in Carbon County, PA. An easy short walk on the bike trail will take you to these falls. Looking high on the steep-gorge wall you can also find mini-horsetail cascades rushing toward these falls before reaching the Lehigh River.
These waterfalls are found near the Rockport Access Area located along the Delaware and Lehigh Rail Trail. This trail runs through most of the length of Lehigh Gorge State Park on its 165-mile journey from near Wilkes-Barre to Bristol in Bucks County. This trail is primarily used for hiking, walking, and nature trips.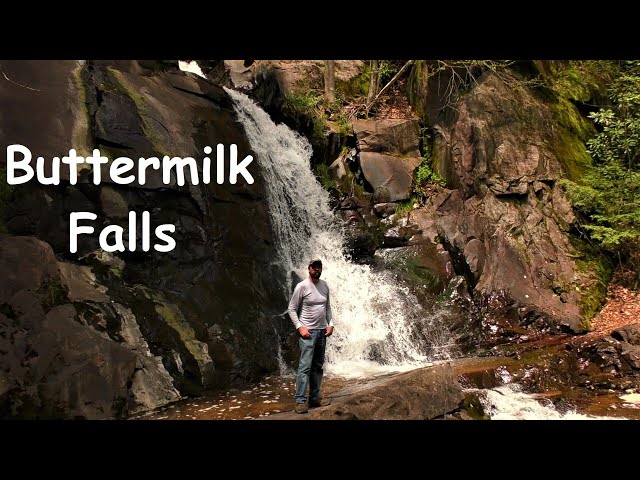 Getting to the Buttermilk falls is an easy walk on a flat gravel surface. From the parking area, the trail takes you upstream to the beautiful, 60 foot waterfall in less than half a mile. There is even a sign on the bridge to tell you it is Buttermilk Falls. You can photograph from the bridge, or from either the left or right side.
The beautiful Buttermilk falls is comprised of two visible drops. Dropping to the left and veering to the right ( making the falls visually interesting ), making a final small drop before joining the lehigh river.
To reach Luke's Falls head back towards the parking lot and stay on the trail for about another half a mile. At Luke's Falls there is also a bridge with the name of the it. This is another tall waterfall with a descent of 50 feet.
Unfortunately, the view of Luke's Falls is pretty limited. There are a lot of trees and plants that make it difficult to see during the summer months
Directions To the Buttermilk Falls Lehigh Gorge
Rockport is the central access area. To access from the south, Follow 209 south from Jim Thorpe to PA 93 north, after six miles, turn right onto Brenckman Drive to the town of Weatherly. Continue through Weatherly then turn right onto Lehigh Gorge Drive then turn right onto Rockport Road.
From the north take exit 273 off I-80, follow PA 940 west for one mile then turn left onto Lehigh Gorge Drive, at the village of Rockport, turn left onto Rockport road.
Parking areas are provided in White Haven, Rockport, and Glen Onoko. Very limited parking is available at Lehigh Tannery and boat launching is prohibited. GPS DD: Lat. 40.9681508 Long. -75.7544096
There are many other falls throughout the park. Unfortunately, many of these are seasonal and will be dry unless there has been a heavy rain or during the spring thaw. Also, most of them are off trail. But if you are up for exploring, there is plenty to be found in the right conditions. Spring would be the best time to see many of these waterfalls.