Listed as one of Pennsylvania's must see parks, Hickory Run State Park is Located in the western foothills of the Pocono Mountains. Covering almost 16,000 acres, this park is great place for a weekend camping trip or a day hike on its 44 miles of trails.
Filled with small sandstone and conglomerate boulders, one of the most popular attractions is the 16.5 acre boulder field. A natural landmark surrounded by a beautiful ring of evergreens.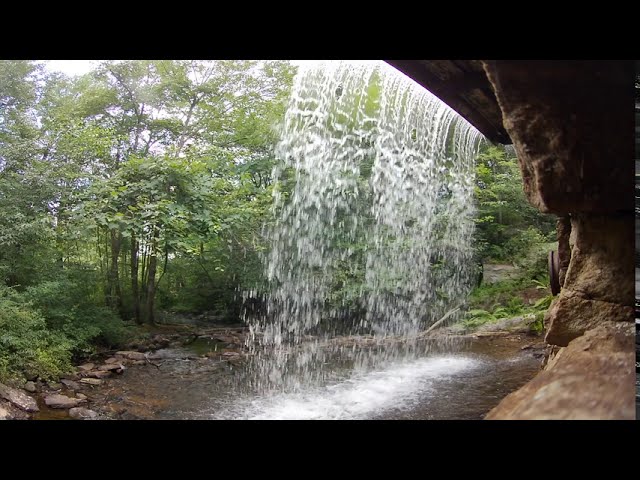 Hiking trails range from steep rocky trails to wide flat paths. In winter, many of the park's trails are open for snowshoeing, cross-country skiing, and snowmobiling. Trails marked with yellow blazes are for hiking, blue blazes are for hiking and cross-country skiing, and orange blaze for hiking and snowmobiling.
A cool one to try? The shades of Death trail, not named for today's hiking experience, but for the challenging terrain settlers faced centuries ago.
There's not shortage of outdoor play to be enjoyed here, Hunting and fishing are also available. Hunting is permitted in Hickory run and surrounding State Game Lands during hunting season.
Fishing is available in many of the park's lakes and streams.

Mountain biking is not permitted on the park, but allowed in other nearby parks like Lehigh Gorge State Park
Visitors can camp in tents, trailers or cottage camping sites with modern amenities thru the 3rd Sunday in October while enjoying access to restrooms, electricity and the camp store. The park also welcomes rustic campers through the end of December.
Hickory Run Parking & Regulations
The park is open every day of the year, sunrise to sunset
Day use areas close at dusk
The visitor center is open specific hours
The beach, overnight areas, and other areas are open specific seasons and hours
Pets and fires are allowed
No alcohol
Contact the visitor center for facility seasons and hours.
Hickory run experiences high visitation from the spring through the fall. Parking areas at trailheads may reach capacity early in the day, even during the week. Please arrive early and have a back-up plan if parking lots are full.
Hiking at the Hickory Run State Park
Every trail offers something different, and certain trails present more challenges than others. Stop by the park office or download the park's map here from the park's oficial website before you start hiking. Cell service is spotty in areas of the park so having a printed version of the map may be a good idea.
The Boulder Field
Predating several of North America's ice ages, The Boulder Field is one of the park's most memorable attractions.Located in the northeastern corner of the park, this boulder field can be reach either by car or via a hiking trail.
Heavily trafficked, a 2.2 miles out and back trail located near lake harmony.
Rated moderated, this trail features a waterfall and is primarily used for hiking, running and bird watching.
Hawk Falls
Hawk Falls Trail is a 1 mile heavily trafficked out and back trail located near Lake Harmony, Pennsylvania. The trail features a waterfall and is rated as moderate. It also offers a number of activity options and is accessible year-round. Dogs are also able to use this trail but must be kept on leash.
Fireline Trail
This trail known for its picturesque lookout point, originally functioned as a fire entrance into the park
Camping at the Hickory run
The park's large campground features more than 300 tent, trailer and RV sites, as well as a few walk-in sites and camping cottages.
Camping is available from mid april to mid October for sites with modern facilities. Campsites without running water are available to mid december. Park facilities include restrooms with showers, drinking water, two playgrounds, amphitheater, fishing pier, dog-walking area, and a camp store.
Campsites are ADA accessible and special designated campsites for those with pets.
The Shades of Death and Beach trails are accessible right from the campground. Campsite rates range from $15–$40/night; cabins and cottages range from $38–$105/night.
Swimming
The lakeside beach is open for public swimming and sunbathing during the warm-weather months from 8 AM to sunset.
Visitors can enjoy lunch in an adjoining 400-table picnic area, or go with their kids to the Sand Spring Playground.
Fishing
Along the riverbanks, anglers can enjoy a relaxing day, reeling in panfish, brook, and brown trout.
With that said, it is worth noting that fishing rules tend to vary throughout the park, ex. The park's southernmost waterways are catch and release.) As such, your best bet is to consult the park office before you start casting.
Disc golfing
Bring along your discs and take on the challenging 18-hole disc golf course.
The course at Hickory Run State Park loops around open fields and into dense wooded areas.
Over the river and through the woods! This disc golf course includes obstacles like streams, hills, dense patches of shrubs, a lake, a rock wall and lots of trees.
Be courteous to other park visitors as this course nears the swimming lake and picnic area.
A 19-hole disc golf course is in the Sand Spring Day Use Area. The course is flat, wooded, and has crushed stone tees, basket holes, and is about one mile in length. Please be cautious of picnickers when playing the first ten holes.
Discs are not supplied, players must bring their own recreational equipment.
Geocaching
Up for some treasure hunting? Mobile gamers can compete thanks to many geocache containers throughout the park.
The Hickory run state park also offers three permanent orienteering courses which needs anywhere between 1 to 4 hours to complete.
Courses have been designed to accommodate variable skill levels.
For more information on any of the activities and trails available check out their official website or stop by the park office.
There are enough sights to see and fun activities to do to make your trip to the Poconos a multi-day adventure!