Seven Tubs Nature Area has incredible views just minutes from Wilkes-Barre, a hidden gem. The perfect place for a hike in the woods, a hike on large rocks across wooden bridges overlooking waterfalls. The 500-acre recreational area is named for a series of pools, or "tubs," created by glacial meltwater. You'll also spot the main feature of the area, a stream called Wheelbarrow Run. This stream carved its way through the bedrock and creating a beautiful ravine.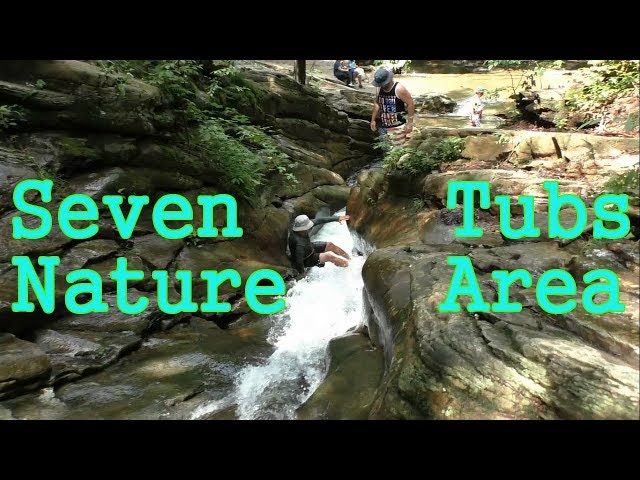 The waterfalls and tubs are right at the beginning of the trail, you can go down to the water on the steps
Seven Tubs is home to two hiking trails. The Main Loop is a 0.3-mile trail that leads straight to the tubs and other highlights. The Audubon Loop Trail is a 1.8-mile loop that offers prime views of the stream and surrounding mountains.
From the parking area you will cross the wooden bridge and over the falls. After the bridge turn Right and follow the yellow blazes. It appears there are two parallel trails, one blazed yellow, and one that runs along the creek. They both meet later on, and all the action is along the water. You will see waterfalls and cascades along the way. This place is most impressive a day after a rainstorm. The path along the stream is relatively easy, there are some wet spots that can be slippery so be mindful of each step.
The trail takes you back and forth between the stream and the woods for the first half of this three mile trail. As the trail loops back in the other direction you will notice a much more quiet walk through the woods.
How to get to Seven Tubs Nature Area
Seven Tubs Nature Area is located off of Route 115, a short distance southeast of Wilkes-Barre. A sign marks the entrance to the park and a roadway leads to several parking areas near the trailhead. The park can be found at the following coordinates: 41.235641, -75.810199. Click here to open on Google maps